In previous blogs, we've covered why it's so important that your glasses fit your face. But how are the measurements for your glasses determined? Let's find out why its so important to know your eye glass measurements .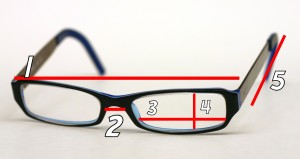 Dhscommtech at English Wikipedia [CC BY-SA 3.0 (http://creativecommons.org/licenses/by-sa/3.0) or GFDL (http://www.gnu.org/copyleft/fdl.html)], via Wikimedia Commons
What Are You Measuring?
Before you start figuring out your measurements, you need to understand what you're measuring. Measuring glasses can be broken down into these five areas:
Note: All the measurements are in millimeters (mm).
Frame Width: This is the horizontal width of the glasses, measuring from one end to the other. The frame width can vary, depending on the width of your face.
Bridge: This is the measurement of the part of the glasses that go over your nose. Typical bridge width ranges from 14 mm to 24 mm.
Lens Width: How wide your lenses are. The lenses width can range from 40 mm to 60 mm.
Lens Height: How tall your lenses are. The length can range depending on type of glasses you get. (Oval-shaped lenses versus square lenses, for example. Bifocal lenses typically have to be taller.)
Temple Arms: The length of your glasses' arms. Typical ranges for the arms is 120mm to 150 mm.
All these measurements combine to help determine what frames will fit you best.
Your Measurements Are Usually Found on Your Glasses
Though it's good to know what you're measuring, oftentimes you don't have to do it yourself. Your optician will take all your measurements for you to determine the right width, length, size, etc. And if you need to reference your measures in the future, you can look on the glasses themselves: Your lenses width, bridge width and temple arms width are listed on your frames.
Where do you find those? Look on the inside of the frame, either on the side of one of the temple arms, or printed right above the bridge. You're looking for a set of numbers — something like 51-18-140, for example. These numbers are separated by slashes (/) or boxes, like in the photo below.
The first number in this set is measuring your lenses width. In the photo above, it'd be 54 mm.
The second is measuring your bridge width. In this example, your bridge width would be 16 mm.
The third set of numbers is measuring your glasses arms width. In this example, it would be 140 mm.
The only measurement you won't find on your glasses is your frame width. Luckily, that's easy to figure out. If you have a pair of frames with you, just simply measure them with a ruler or measuring tape. Remember, 1 inch on a ruler is 25.4 millimeters.
If you don't have a ruler on hand, you can do some simple math: End piece width + left lens width + bridge width + right lenses width + end piece width. End pieces are usually 2 to 6 mm in length.
It's OK if you are a little over and under — according to Zenni Optical, you have a leeway of 2 to 3 millimeters on each measurement, except for the bridge.
What if I Don't Know My Measurements?
Most of the time, your optician will be taking your measurements, so you don't have to. But what if those measurements don't show up on your glasses? Well, you can do the measurements yourself. How you do it, however is key.
You've already learned how to do the frames, so here's the other parts:
Bridge: Start at the top of the bridge and measure horizontally, from the edge of one lens all the way to the other.
Temple Arms: Staring at the hinge (where the arm connects to the main frame), all the way to the very end, including the part that bends around your ear. Measure the top of the bends to the bottom too.
Lens Width: Measure the lenses from the widest point.
Lens Height: Measure the lenses from the tallest point down.
There's one last thing to measure, but it's not on your frames: It's on your face. It's your "Pupillary Distance." What's that? Let's find out.
What's Your Pupillary Distance?
Pupillary Distance (PD) is basically the distance between your two pupils. Like your frames, this distance is in measurements. Most of the time, your eye doctor will take this measurement, and it can be found with your prescription information. However, they might not always tell you it. You can ask your eye doctor if you want, or you can easily take your own measurements.
If you're on your own, stand 8 inches from a mirror and use a ruler to measure between your two pupils. (Remember 1 inch on a ruler is 25.4 millimeters.) Start by closing one eye, and seeing where your pupil lines up on the ruler. Do this a few times until you get an accurate measurement. If you can, ask a friend to help too. Your
PD distances range, but they're typically 54 to 74 mm. Children are 43 to 45 mm.
Your PD is different for reading glasses however. You'll need to know your Near PD then, but that's easy. Just minus 3 mm from your regular PD number.
Why is this important? Your PD determines the optical center of your lenses. If your center is off, you might not be able to focus properly.
Note: You do need an accurate PD in order for your glasses's optical center to be correct. Your eye doctor is required by law to tell you your PD number, which will be accurate.
Why Do I Need to Know All This?
So what's the benefit of knowing your measurements? Mostly this is beneficial if you are buying glasses outside your optometrist's office, such as online. You will be able to pick a new pair of glasses easily by entering in your frame's dimensions. Add in your prescription information — given to you by your eye doctor — and your pupillary distance, and you're set.
However you get your glasses, if they end up breaking, don't worry. fixmyglasses.com is here to help.