The best sunglasses for athletes is determine by the sport… each is unique.
If you love to play sports or are an athlete on the go, you want sunglasses that not only protect your eyes, but also can take some damage and make you look cool, too. As we've talked about in the blog, "What You Need to Know About the Different Types of Lenses," the best type of glasses for athletes feature polycarbonate or Trivex lenses. These lenses are lightweight, 100% UV-resistance and impact-resistant.
So what are some of the best sunglasses out there for athletes? Let's cover some popular sports and activities to find out.
Sunglasses for Running
The best sunglasses for runners are ones that wrap around the sides of your face, according to RunnersWorld.com. They recommend glasses with polarized lenses too, to cut down on glare. You might also want to consider photochromic lenses, which get lighter or darker depending on how much sun is out. Also recommended are anti-reflective lenses with anti-scratch coating, to protect your lenses if you fall.
Take into account the tint color of your sunglasses too. A brown tint works best, as the color won't bother your eyes and provide a good color balance in sunny or cloudy weather.
So what are some great sunglasses for runners?
Men's Fitness recommends Zeal Optic's Equinox sunglasses. (http://www.zealoptics.com/equinox.html) According to the manufacturer, "With a unique and aggressive lens shape this frame is built for the most kinetic of situations … For long morning runs or a quick pump on the bike, Equinox ensures that you always have the performance you need. Lightweight construction and strategic venting allows for maximum performance."
According to Men's Fitness, these sunglasses "make you feel faster as soon as you put them on. Their polarized lenses are a must, especially if your favorite routes border lakes or oceans that can reflect harmful rays."
Competitor.com, a website on training and nutrition, recommends Optic Nerve's Vahstro sunglasses. (http://opticnerve.com/products/sunglasses/vahstro) According to the manufacturer, "The triple injected rubber temple tips and nose bridge of the Vahstro provide a seamless, durable fit that works well for most face sizes and shapes.
Why does Competitor.com recommend these glasses? "While not as all-covering as a shield style, these sunglasses feel great, the polarized lenses stay free of fog and sweat, and they're stylish enough to wear casually," they said.
Other brands to consider include Oakley and Smith Optics.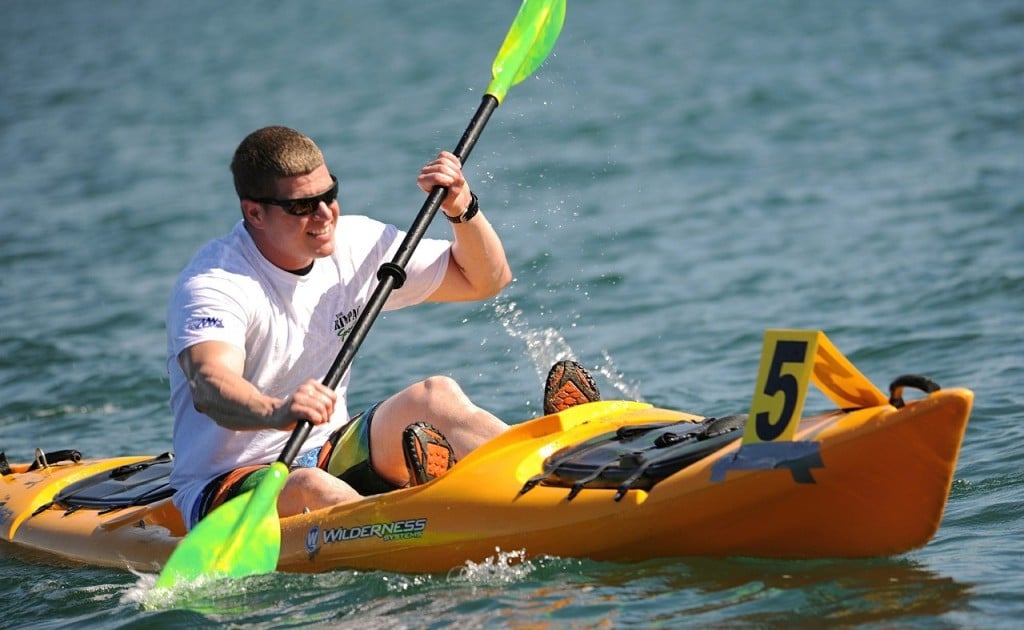 Sunglasses for Watersports
When it comes to watersports, wearing protective sunglasses is a must. Not only is there sun reflecting off the water, but you need sunglasses that can block water from getting into your eyes and can function in any weather.
It's very important to have sunglasses that can wrap around your face or, better yet, are designed to stay on your head, either with a headband or with comfort-grip nose fittings so they don't slide off your face. Your sunglasses need to have UV protection as well, along with polarized lenses, which keeps the glare down. You might also want to consider photochromic lenses, that can get lighter or darker depending on how much sun there is. This is good for days where it's sunny one moment and cloudy the next.
Hydrophobic coating is also a plus: This makes the lenses water-repellent. Also, get glasses that float, so if you lose them in the water, you can find them quickly.
One last consideration: Get sunglasses with a protective skirt. This means they are made of a padded, flexible material that are molded to fit the shape of your face
So what are some great sunglasses for watersports?
The Active Times, a sports and recreation website, recommends a number of glasses, including Dragon Alliance's Chrome 2. (http://www.dragonalliance.com/en-us/sunglasses/chrome-2-63143/720-2106-999) According to the manufacturer, these sunglasses float, have a lightweight nylon frame, rubber nose pads and temple tips and have 100% UV protection.
According to The Active Times, the Chrome 2's "allows for superior contrast for fishing, paddling and beach cruising, where seeing what's beneath the water's surface is as important as seeing what's on top."
The Active Times also recommends Julbo's Wave. (http://www.julbousa.com/performance/wave/) According to the manufacturer, "the Wave is designed for those who play hard on the water — from kite surfing to paddling to grueling offshore racing. A removable protective frame skirt eliminates spray in the eyes and the polarized lenses provide maximum protection against glare. The frame will float if dropped in the water and comes with a strap to hold them securely in place."
Those are things The Active Times highlights in its review, saying, "Designed with a smart — and removable — protection skirt that creates a tighter intimacy to the contours of your eyes and temples, they create a better barrier against oncoming waves or splashing water for high seas or windy rivers."
Other brands to consider include Maui Jim and Rudy Project.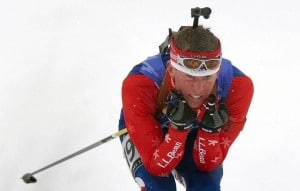 Sunglasses for Skiing & Snowboarding
Sunglasses for skiers and snowboarders have a lot of features similar to sunglasses for running or water sports. One of the major differences is that they should also have hydrophobic coatings, which repel water, snow and fog, and make removing smudges and grime easier. Another lenses coating to consider is mirror coating, which help reduce glare that's coming in from sun reflecting off snow.
You'll also want to consider the tint of your glasses carefully. Rose-colored lenses are some of the best tints for skiers and snowboarders. They can help you make out the shadows of ridges and bumps on the snow if it's overcast or other types of weather.
So what are some great glasses for skiers and snowboarders?
Men's Health recommends Switch's Tioga sunglasses. click here. These glasses are versatile for sports or just casual day wear, according to the manufacturer.
Men's Health says Tioga sunglasses use "a magnetic system which makes a lens swap as quick as a lighting shift, and the magnetics are strong enough to hold the lens in place—even during rough sports like snowboarding and mountain biking. Frames and lenses are impact resistant, so don't be afraid to go full-speed."
The Active Times recommends the Kaenon Hard Kore sunglasses (http://www.kaenon.com/www/5015/1001127/i1338886#.VgyzKrRViko) The lenses are made with Kaneon's specific SR-91 polarized lenses. According to the manufacturer, these offer "razor-sharp clarity and impact-resistance all in one ultra-lightweight, durable lens."
Why does The Active Times recommend these sunglasses? They say they provide "top-notch performance and long-term durability. Ergonomic nose pads and tips virtually eliminate slippage, even during rigorous activities like mountain biking, ski mountaineering and trail running."
No matter what sport you love to play, there is a great pair of sunglasses out there for you. Just do your research to find the best pair. And if you ever need your glasses repaired, head over to fixmyglasses.com